Posts Tagged 00s
The following is a repost from my old blog. This past year held the tragic news that producer Tsunku got throat cancer and had his vocal cords removed. Altho I haven't been a fan of the direction of the group since the late 00s, I still love the old records and if you count yourself as a fan of the music and are not saddened by this event, you are a horrible person and deserve to fail at every stupid thing you do. This is definitely one of my strangest and most thorough reviews and I'm going to try not to read it as much as possible before I change my mind. And now, an excuse to use the horizontal rule:
---
Needs Moar Tsunku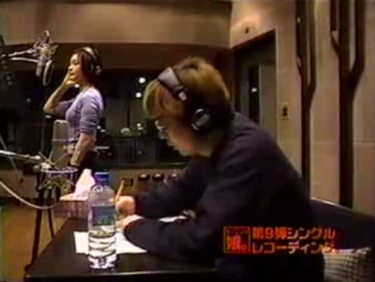 I was messing around the other day with hooking my boom box to my 8-track. Long story, but the point is the CDs got switched around. I cued up a track that I thought was going to something I recorded earlier. It was something else. But I didn't place it right away. I was using a stereo cable into a mono input. It didn't notice the mistake listening to my own recording because it was in mono. But now I was only hearing half the song. The hilarious half? Maybe.
It was Rainbow 7.
Yes, you can do this digitally. It might even sound a little better. But I never had a reason to try. And I'm sure other people have noticed this, slowly taken off their headphones, closed their eyes, and tried to forget, tried to forget….
No, I have to post it. I think it's cool. You can hear down into the mix, not just the backing voices (sometimes multiple Tsunkus or other backups), but there's a lot going on that you just can barely hear in the full mix. They spent time putting in that in there. For me, that's a lot of the greatness of it. If you have not heard this music at all, this is not a good place to start. If you have and not really gotten why I keep going on about it, maybe it helps. Maybe it seems even dumber. But I don't think so. I can't make you like it, but maybe I can get you to respect the process of it? RE-SPECT.
WARNING
If you have to this point successfully denied the presence of "the voice", or have some mental method of blocking it out, maybe don't ruin it. Some things cannot be unheard.
Here's one from March of '10, actually released some time in '09. Originally had it under a V/A credit, but it's one of those gray areas where it's mostly remixes of remixes, but there are some original tracks and it all has has the same stamp on it that it feels enough like a real album to give him marquee credit.
I heard of it through the Daly City Records mailing list, which I was on just for Mochipet, who I knew through MySpace, and/or maybe he used to post on Giant Robot. The website credits Mochi, but oddly the album itself doesn't on any individual tracks. I know he did the Easy-E track. Thought it might be some alter ego in-joke thing like Madlib/Quasimoto or Kool Keith/Dr. Octagon/Etc. It is but only in the case of Th' Mole/DJ 0.000001 who is real separate person, with his own website. Mochi's credit just got lost in the shuffle. Enough. The songs:
Captain Ahab starts it off with Ride, or rather dude starts it off with a remix of such. I am not familiar with this song or group, it might as well be another alias. (It's not, and last.fm is telling me I have listened to them on some of DJ Donna Summer's Cock Rock Disco comps. I find the name unfortunate; I think some of the tracks I scrobbled may be another band. Whatever.) It starts of pretty good, with triumphant trumpet samples. Then the vocals start out pretty bad, but the momentum of the thing takes it into so-bad-it's-epic, like "yeah, man, conquer your own terribleness, I can dig it"—I was getting back into bike riding when I got this, which is something I need to back into again now, and this did the trick of getting pumped right out of the gate. I'm probably going with something else in the future cause it kinda loses steam halfway through. In fact, the whole thing sounds different than how I remember. If it was on tape I would think it was the tape wearing out, but mp3s do not age, only the music itself and (I guess) me. I think it was also partly early 00s nostalgia. A few years ago I was thinking I had merely stumbled and needed to get back to where I was then. Now I'm pretty sure I was a total moron—not about everything, but yeesh, I can do some other stuff, what the hell am I thinking.
Anyway, it recovers and goes on. It never really lets up, there are just moments of exhaustion, even if you are sitting still, mentally so. Sidenote: this is all breakcore as far as I'm concerned, some of these artists went onto dubstep but if the music on this album can be considered dubstep, I don't know anything about anything. And the only reason I might know anything about anything is from Jason Forest a/k/a DJ Donna Summer's show Advanced D&D on WFMU. Things get much more hardcore than this record, but I think it's the same style, even if this one crosses over into a bit lighter, fun, pop direction.
What was said about the Captain Ahab vocals go double for those of Th' Mole himself. He goes for dumb and gets there. Altho I like the force of his delivery and he records better. It sounds like a real song, like he's sampled from another recording and blended it all together. But there's really only a couple tracks like that and it's still mostly a mixtape. I don't need to run it down track-by-track but highlights include Bone Thugs-N-Harmony outroing into an explosion of shitty stock drum machine cymbals, an appearance by the music of Jean-Jacques Perry, JJ Fad even tho they are pretty played out… Foxdye's One Leg in the Booty Shorts sounds has some Venga Boys in there; Enya gets mixed with the steel drums from 50 Cent's Wanksta—pure stunt mixing. The Drumline soundtrack is a nice inclusion, marching band music is classical maximalism; man vs. machine, that whole thing. And the Easy-E track, this is a much different version of 24 Hrs. To Live. Ridiculous.
Closer Bouncy Ball crosses the line into pure annoyance, but it is the last track so it's not so bad. I kinda like an endurance test sometimes.
%
Unlike my other dumb mixtape posts, this one is still available from Daly City Records so you are not like reading this for no reason.